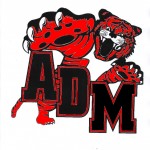 Saturday was a good day for the ADM girls track team and their head coach Bart Mueller.
The Tigers were able to repeat as champions of the Raccoon River Conference by narrowly edging out Boone.
Here is Coach Mueller reflecting on what he calls a "joyous day" in Adel.
"We've got a lot of seniors where that was there last meet.  It was a home meet since we were hosting it so there were a lot of parents (in attendance).  It was a nice day, it was just… It was kinda neat because I felt that the girls weren't performing with any nervousness.  We really stressed, 'this is excitement, this if fun'.  We're going to have a little adrenaline running because it is a big meet and we knew it was going to be a battle, but at the same time, we were confident and felt we could run well so we had fun and stayed loose.  That really helped at the end of the day."
While being loose was one factor in ADM's conference victory, it wasn't the main ingredient.  For Coach Mueller, his girls came out on top mostly because of their heart.
"We had some performances where I think heart won out and good things happened.  We had very many girls contributing–it was definitely a team effort.  We definitely have our stars that lead the way with this team, but when you win by 8 points, everybody is important.  There were 19 girls that competed and they call contributed and made a difference… We needed them all."
Next up for the ADM girls track team is their sectional competition at Dallas Center-Grimes.  The top two qualifiers in each event automatically qualify for the state meet in Des Moines.
Tune-in to tomorrow's sports as we sit down once again with Coach Mueller to gauge the expectations he'll have for his team come Thursday.