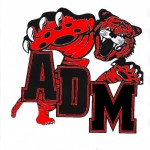 Coming off a fifth place finish in Saturday's Raccoon River Conference meet in Adel, the ADM boys' track team is now preparing for tomorrow's district meet at Dallas Center-Grimes.
With tomorrow's competition back to a more individual approach, head coach Mike Whisner gives us an idea of where his athletes stand heading into what might be the last meet of the season for some.
"We are sitting pretty good in the highs and lows with (Tate) Jensen.  Then (Kyle) Hovey has the fastest time in our district in the 800.  (Josh) Berger is second in the 3,200 meters.  (Jesse) Bennett is second in the shot put.  Medley is in a close third for a time, 4×800 is in fifth place and then our 4×100 is in fifth place (also)."
The top two placers in each event will automatically qualify for state at the district meet.
With so much on the line tomorrow, Coach Whisner says he doesn't have to say much to make sure his boys are ready.
"This is going to be last shot for them to have the opportunity to run at state, and the kids are aware of that.  Basically as coaches, we just try to keep them healthy this week and tune them up just a little bit."
To see where the ADM boys stack up against their other district foes in terms of seeding times heading into tomorrow, CLICK HERE.
Conference foes Perry, Carlisle and Bondurant-Farrar are all in the same district as the Tigers.