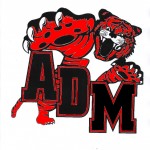 The ADM girls track team is riding high this week as champions of the Raccoon River Conference, but for head coach Bart Mueller and his athletes, their focus is back to the task at hand.
Now that their team season is essentially complete, Mueller says his attention has shifted back to getting as many individual events qualified for state as possible.
"The focus changes a little bit from Saturday, which was all about scoring team points.  I put people into some different events than they will be on Thursday.  Thursday we're looking at, 'what can we do well at the state meet'.  I want to put girls (in position) so that we can go down to the state meet and have some success down there.  It would be nice if we won the team title Thursday but that's not our priority."
If everything goes according to plan for the ADM girls tomorrow, Coach Mueller discusses a few of the events we could see the Tigers competing in in Des Moines.
"Our strengths are 4×200 and our 4×400 relays–those are the ones we're looking at placing in the top four at the state meet or even better.  Of course Kari (Dufoe), I think she's taking the steps toward possible a state title in that 100 meters, but you know state qualifying… you have to get through it and get to state.  We still have to perform Thursday and be focused, and I think the girls are–they're excited and ready to go."
To see where the ADM girls stack up against their foes in tomorrow's district meet, CLICK HERE.