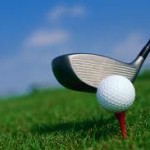 The ADM girls' golf team was up in Huxley yesterday competing in its rescheduled Raccoon River Conference meet after Monday's tournament was postponed due to inclement weather.
Turns out the wait was well worth while… the Tiger girls are conference champions.
Coach Cris Goodale's bunch shot their best 18-hole four-player total of the season yesterday, combining for a score of 385.  The host Ballard Bombers came in a distant second, 32 strokes behind ADM.
Individually, the Tiger girls did exactly what the boys did in their conference meet on Monday–they finished one, two.  Lexi Owen finished as medialist of the Raccoon River Conference, shooting 90.  Her teammate Taylor Boorn placed as runner-up, coming in with a 93.
The Tigers also had two other golfers in the top 10–Hayley Willems finished in fifth after carding a 97, while Nikki Bever placed 10th, shooting a 105.
The ADM girls will have to wait almost two weeks now before their next "big" competition of the season–that would be the regional tournament at Carroll on May 27th.
In the meantime, they'll hit the links again this coming Monday in a rescheduled head-to-head dual meet against conference foe Carroll.