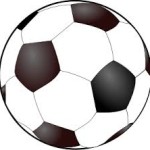 As we told you yesterday, the ADM/Van Meter girls soccer team is 9-2 so far this season and they're currently ranked 8th in Class 2-A.
The Tigers' opponent tonight is also ranked–that would be the Newton Cardinals.
Head coach Kelsey Dolder says her girls' should be in for a tough battle this evening.
"They're going to be a very, very good team.  They're gonna be really physical with us so we're just going to have to match their physicality and play our game.  We're going to be stressing the need to really connect our passes and just moving the ball around as a team."
Coach Dolder says connecting passes may seem like a simple recipe for a win, but it's something she has to reiterate to her players, who in her words, sometimes "try to do too much."
"Looking back at Waukee, we're just trying to be a little more like Waukee I guess.  They had a lot of unselfish players–they get a touch, they make a pass.  I think if we could do that we could be a very good team, but at times we decide to take too many touches and we try to do too much when we have our teammates their helping us… so we just need to rely more on our teammates."
Tonight's match between the Tigers and Cardinals begins at 7pm in Adel.
The ADM boys are also in action–they take on Dallas Center-Grimes on the road.