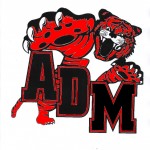 ADM's boys and girls track teams both competed in their district meets yesterday evening at Dallas Center-Grimes, and suffice it to say, it was a pretty good night for both squads.
Starting with the ADM girls, Coach Bart Mueller had his team qualify an incredible 12 events for the state track meet next week in Des Moines.  For how poor the conditions were yesterday, Coach Mueller says he's more than pleased with how the Tigers performed, coming in second as a team behind DC-G.
As expected, Kari Dufoe qualified in both the 100 and 200 meter races, and she also helped a couple of relay teams qualify for state.  Another highlight individually came from Brennan Hook, who made up a ton of ground in the final lap of her 3,000-meter race to qualify in second.  It'll be her second straight trip to Des Moines.
Coach Mike Whisner's ADM boys qualified five events for state last night, four of them being individual qualifiers and one event being a relay.
Tate Jensen won the 110-meter hurdles and got second in the 400 hurdles.  Jesse Bennett then qualified in second in the shot put with a throw of 48'10.25".  Kyle Hovey also qualified in second in his signature 1,600-meter event.
Coach Whisner says his boys ran their best overall meet of the year in what was their final competition of the year together.  The Tigers came in third in the district, scoring 96 points.
ADM State Qualifiers:  
Girls' Relays
1st place, 4×800: Brianna Mueller, Erin Person, Hayley Canney, Jenny Wicks
1st place, 4×200: Hayley Scheppers, Torrie Hook, Regan Engelman, Kari Dufoe
1st place, 4×100: Madi Bertman, Hayley Scheppers, Sydney Bertman, Kari Dufoe
2nd place, 4×400: Torrie Hook, Brianna Mueller, Olivia Anderson, Regan Engelman
2nd place, distance medley: Sydney Bertman, Regan Engelman, Torrie Hook, Brianna Mueller
2nd place, spring medley: Madi Bertman, Hayley Scheppers, Torrie Hook, Regan Engelman
Girls' Individuals
Kari Dufoe: 1st place, 100; 1st place, 200
Madi Bertman: 2nd place, 100; 2nd place, long jump
Brianna Mueller: 2nd place, 800
Brennan Hook: 2nd place, 3,000
Girls' at-large possibilities
Sydney Bertman: 3rd place, 200; 3rd place, long jump
Boys' Relays
2nd place, distance medley: Grant Goeden, Kolby Whisner, Reece McLaughlin, Kyle Hovey
Boys' Individuals
Tate Jensen: 1st place, 110 hurdles; 2nd place, 400 hurdles
Jesse Bennett: 2nd place, shot put
Kyle Hovey: 2nd place, 1,600