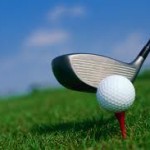 The ADM boys golf team competed in their district tournament at Atlantic yesterday, and unfortunately there will be no Tigers heading to the state tournament.
Coach Cris Goodale's squad actually shot their best 18-hole combined score of the season at Atlantic, but in what turned out to be a loaded district, it was only good enough to place fifth.  The Tigers shot 319 in the meet.
Host Atlantic finished on top in the district, shooting 302.  Harlan came in second with a 303, and Creston placed third as a team with a score of 305.
ADM had some individual scores that were close to qualifying for state but it wasn't to be.  Brody Boston, who qualified for state last year for the Tigers, shot 76 to lead ADM, but he finished out of qualifying position.
Atlantic's Evan Schuler won the competition individually, shooting an impressive 66.
Reflecting on the season, Coach Goodale says his boys had a "good year" but there are "little improvements to be made here and there."
Next season should be a good one for the ADM boys golf team though, as their top four performers–Boston, along with Joe Vest, Jacob Schumaker and Ben Sandquist–all return.