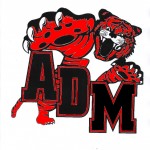 The ADM boys soccer team continued its hot streak at the end of last week, as the Tigers knocked off Bondurant-Farrar and Dallas Center-Grimes.
ADM has now won five straight matches and their season record sits at an impressive 10-5-1.  The Tigers are still unbeaten in the Raccoon River Conference too.
Looking back at Friday's win over Bondurant-Farrar, according to the scoring summary from head coach Bill Shields, the Tigers won a close and exciting contest 3-2.
ADM opened the scoring in the 14th minute when Johnny Reel found the back of the net after outdistancing two Bluejay defenders. Following that first goal the Tigers dominated possession the remainder of the first half but could not extend their lead.  In fact, those missed opportunities cost ADM the lead come intermission, as the Bluejays struck twice to take a 2-1 halftime lead.
Then in the 57th minute, the Tigers tied things up at two when Noah Bardwell unleashed a spectacular strike from several yards outside the penalty box.
Just a few minutes after Bardwell's goal, he found Tiger star Jake Hutzell streaking to the goal and delivered a perfect pass.  Off one touch, Hutzell took the pass and tucked the ball beyond the Bluejay goalkeeper to give ADM the 3-2 lead.
From there, the Tigers held the majority of possession the rest of the contest to ride out the win.
The ADM boys have just two games remaining–they take on Winterset tonight and Carlisle tomorrow.