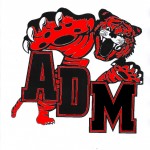 We're just two days away now from the start of the state track meet in Des Moines, and it's time we bring you the schedule for the ADM Tiger girls.
Coach Bart Mueller's squad will vie for state placements in 11 different events starting on Thursday at 3:35 in the afternoon when Brennan Hook takes off in the 3,000-meter run.
Also competing Thursday will be Kari Dufoe and Madi Bertman–they'll run in the 100-meter prelims at 4:27pm.  Dufoe will then run again just a couple of hours later, as she competes in the 200-meter prelims at 6:30pm.
The Tigers will have one relay in action Thursday–their 4×800 team runs at 5:15pm.
Friday will be a particularly busy day for the ADM girls.  The Tigers' distance medley team runs at 3pm, and then in succession, the 4×200, 4×100 and 4×400 relays will run at 4:45, 6:30 and 7:20pm, respectively.
Madi Bertman will be the sole individual competing for ADM Friday–she'll be in action in the long jump starting at 4:30.
Then on Saturday, the Tigers' 800 sprint medley team competes at 9:24am, and Brianna Mueller runs in the 800-meters at 10:10 that morning.
Tune-in to tomorrow's sports on the Raccoon Valley Radio Network to get the full lineup of the ADM boys competing at state.  The Tiger boys do not have events beginning until Friday.