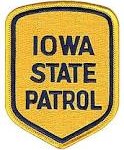 Four individuals were injured in a single car accident on Interstate-80 about three and a half miles east of Adair early yesterday morning.
According to the Iowa State Patrol, 48 year-old Lazaro Rodriguez Soto of Cedar Rapids, was driving his 2003 GMC Envoy westbound on I-80 at the 79.6 mile marker just before 6am yesterday, when he fell asleep at the wheel while traveling through a work zone.
The Envoy then ran off the roadway and struck the guardrail, which caused the vehicle to become overturned in the Interstate's north ditch before coming to rest on its top.
Soto's vehicle was occupied by nine people in total, and four were transported to the Adair County Hospital in Greenfield via Adair County Hospital Ambulance.
The Iowa State Patrol's accident report shows the individuals injured as being 49 year-old Ma Eugenia Montes-Vera of Cedar Rapids, 26 year-old Clara Rodriguez also of Cedar Rapids, and two young girls aged seven and nine–their names have not been released.
The medical conditions of Montes-Vera, Rodriguez and the young girls are unknown at this time, though the Iowa State Patrol says Montes-Vera's life was saved by the use of a seatbelt.
Raccoon Valley Radio will bring you more information as it becomes official.