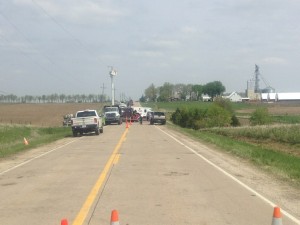 One person is dead after falling out of a bucket, extended approximately 50 feet in the air near Dexter.
The Dallas County Sheriff's Office tells Raccoon Valley Radio crews were working to hang power lines along County Road P-48, just north of Dexter.
The accident happened between 10 and 10:30am.  Dallas County Ambulance and Lifeflight were also called to the scene, but the Sheriff's office confirms the victim has died as a result of the fall.
Approximately one-half mile of P-48 is closed as the investigation into the accident continues.  The cause is unknown at this time.
Officials are working to notify the family and the lineman's identity has not yet been released.  Sheriff's deputies expect to share more information later this afternoon.
Stay tuned to Raccoon Valley Radio for updates as they become official.
Updated from original post 5/20/14 at 11:59am