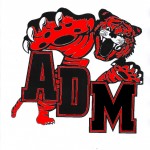 Yesterday we gave you the schedule for the ADM girls track team as they get their state meet events underway tomorrow, and as promised, here now are the ADM boys' event times.
Coach Mike Whisner's bunch has one Tiger competing tomorrow–that being at-large state qualifier Grant Goeden, who will run in the 100-meter dash prelims at 4:42 in the afternoon.
The Tigers' busiest day is Friday, when they'll have four events in action.  Senior Tate Jensen will get the day started by running in the 400-meter hurdle finals at 3:30pm.  Jensen will also run in the 110-meter hurdle prelims at 5:10.
Jesse Bennett competes in his signature shot put event at 4:30 Friday afternoon, and the distance medley relay will then run at 6pm.
The ADM boys will then have one athlete competing on Saturday, as Kyle Hovey runs in the 1,600-meters at 2:01.