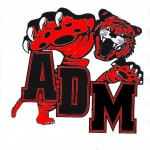 It's almost go-time for the ADM girls track team–their quest to place multiple events at the state meet in Des Moines begins tomorrow.
Head coach Bart Mueller gives us his thoughts about he's feeling heading into his girls' biggest competition of the season.
"This is the exciting time of the season.  It's really the pay day for all the work the girls have done.  I tell them back in March and April, 'those crummy days when we're working out and it's rainy and cold and we don't feel like doing our workouts, this is when you get the pay'.  It's exciting that this year we do have girls that could place very, very high, some relays that could play high, and it's just exciting."
When tallying their points from last year's state meet, Coach Mueller's bunch finished 13th as a team.  Then at the beginning of this season, he told us his goal for 2014 was to have his girls' finish in the top eight as a unit… that goal has not changed.
"You know I think it is a good goal for us, top eight for sure.  That's kind of comparable to being top eight in basketball or volleyball, which means you're in the state tournament.  That's what I feel is the quality of our team… we should be a top eight team and it's shaping up for us to (achieve) that."
The first Tiger girl that could help ADM reach that top eight goal is Brennan Hook.  She takes off in the 3,000-meters at 3:35 tomorrow afternoon.