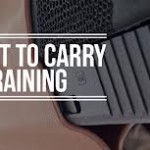 Panora Police Chief and Iowa Practical Firearms Training (IPFT) Instructor Matt Reising will be conducting a "permit to carry" class at the end of this month.
Reising held a similar weapons permit class for Guthrie County residents back in February of 2013.
The course will be held from noon to 5pm on Saturday, May 31st, at the Guthrie County Courthouse's public meeting room.  The cost to attend is $50 per person.
Reising explains why he teaches the course and why believes it's important for all area citizens to know how to use a weapon.
"I believe in our second amendment–I think that everybody can should carry (a weapon).  I'm a firm believer in that.  Even they don't come to our class, I just want people to get their permits.  I love talking about guns, I love teaching about guns and I just love the topic."
Reising says some of the topics of discussion in the course include state and Federal laws pertaining to carrying weapons, utilizing a defensive mindset while carrying, civil litigation, and general firearm safety.
For more information about the course or if any Guthrie County residents would like to register, email Reising at ipft@mail.com.  Registrations can also be made through the Guthrie County Sheriff's Office at 641-747-2214.