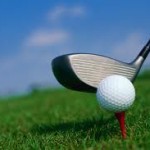 The ADM girls golf team won the Raccoon River Conference championship this year, but their season just got a whole lot better… Coach Cris Goodale's squad has qualified for the state tournament.
The Tigers finished second in Class 4A's Region 1 yesterday afternoon at Carroll Municipal Golf Course, shooting a four-player total of 369.  Newton came in first in the region, shooting 361.
Individually ADM had three girls finish in the top five: Lexi Owen took second in a card-off over teammate Hayley Willems as both players shot 89.  The Tigers' Taylor Boorn finished just a shot back of that duo and she came in 5th.
Coach Goodale's girls last qualified for state as a team back in 2012, so he has high expectations for his squad in what will be their biggest tournament of the season.
ADM will head up to Ames Golf & Country Club for the state meet next Monday and Tuesday, with 18 holes to be played during both sessions.