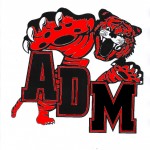 The ADM girls track team didn't quite finish in the top eight at the state meet this past weekend like head coach Bart Mueller had been hoping, but ninth place… that's pretty darn good.
Coach Mueller says he's happy with how his girls "rose to the occasion" once again during their biggest competition of the season.
"You never know what is going to happen (at state), some girls don't run as well down there, but for the most part people will drop time… and our girls did drop time.  Overall, it was a good finish to the season.  Those girls–they're a great team.  I can't say enough about how they competed, how they worked and the ability that they have… we're going to miss 'em."
Sprint star Kari Dufoe was ADM's top individual runner at state, as she came in second and third place in the 100 and 200 meter dashes, respectively.  The Tigers also had two relays finish third in state–those being the 4×200 and 4×400 teams.
Coach Mueller says he'll be hard pressed to ever put together a more talented ADM lineup than the one he had this season.
"Having that much talent to work with, just moving girls around, winning a conference title, going to state knowing we're going to place in top three and shooting maybe even for a state title in some events–that's exciting.  We think ADM is known now… not that they weren't known before, but definitely in the last two years people are taking notice."
Coach Mueller says he hopes to continue building ADM into a Class 3A force in state track, and he'll have a good chance to do so next season with the number of athletes he has returning.  One of those athletes returning will be Kari Dufoe, who will likely be favored to win the 100 and 200 meters in 2015.