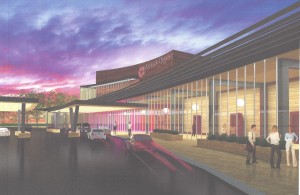 Those who want to address the Iowa Racing and Gaming Commission about the proposed casino in Greene County will have the opportunity tomorrow.
Chief Operating Officer for Wild Rose Entertainment Tom Timmons says the five-person Commission will begin the day at 10am with a bus tour of Jefferson with a stop at the proposed site of the entertainment facility at the northwest corner of the intersection of Highway 30 and Highway 4.
Then, the Commission will go to the Greene County Community Center where Wild Rose Entertainment will make a short presentation followed by a trip up to the top of the Mahanay Bell Tower.
At 10:45am will be a free community barbecue which Timmons adds the public is invited to attend with free burgers grilled by the Greene County Cattlemen's Association and the Greene County Pork Producers.  Then at noon, the doors will to the Sierra Community Theatre where the public forum will take place at 12:30pm.
Timmons notes that anyone wishing to speak for or against the casino may sign up starting at 10am at the theater after the Commission arrives in Jefferson.  Individuals will have up to three minutes, those representing an organization will be five minutes and anyone presenting on behalf of the gambling industry will have ten minutes to address the Commission.
Timmons points out that if you are not signed up to address the Commission, you will not be allowed to talk during the public forum and he states that after the Commission asks their questions to Wild Rose and Grow Greene County Gaming Corporation, the non-profit for the casino, they will then leave town.
The final decision on the casino will be made by the Commission on Thursday, June 12th.