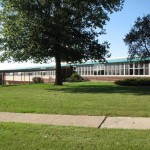 The school year is complete in the Guthrie Center school district, and it was a year that flew by for first-year principal Diane Flanery at Guthrie Center Elementary.
With her kids officially away for the summer, Flanery–a former elementary teacher turned principal–reflects on her personal highlight of the 2013-14 academic calendar.
"I think the highlight for my first year as an administrator was just getting to know the kids–we've got some really great kids in Guthrie Center.  The staff is wonderful (too)–they work so hard for the kids.  It was fun coming to work everyday, and I know a lot of people aren't fortunate enough to be able to say that.  I never knew what my challenge was going to be, but we have a great school district, great elementary school, great students, great staff and very supportive parents."
To cap off the school year, Flanery says her students enjoyed a fun filled Track & Field Day and an awards celebration last week before classes wrapped up on Friday.
Now that classes are no longer in session, Flanery has one request for her students… she asks that they spend 15 minutes of their summer days reading or working on math problems so as to not lose all of their academic skills during these next few months away from the classroom.
To hear Flanery recap the school year in more detail, tune-in to today's Let's Talk Guthrie County on K107 during the 9am, noon and 5pm hours.