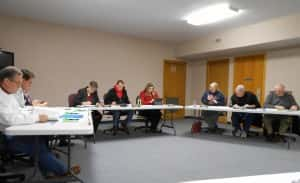 The Jefferson City Council met last night in regular session.
The Council approved the second readings to increase the water and sewer service rates by three percent and a four-year, $4,000 contract was approved by the Council for software to use for water collection data.
The Council set June 3rd's meeting for a public hearing for an amendment to the 2013-14 budget and the first reading to allow beekeeping in Jefferson was delayed due to the ordinance not being ready in time for last night's meeting.
Jefferson Matters: Main Street Program Director Alan Robinson gave an update to the Council.  He said that the dedication of Sally's Alley will be made at 10am on Saturday, June 7th.  It is the south alleyway on the downtown square featuring photographs by the late Sally White of Jefferson.  He also said that JMMS will be hosting a regional workshop on July 23rd with surrounding cities.
Councilwoman Lisa Jaskey reported that the house at 507 South Locust Street had the asbestos removed and will be seeking approval by the Council for demolition of the house at the next meeting.