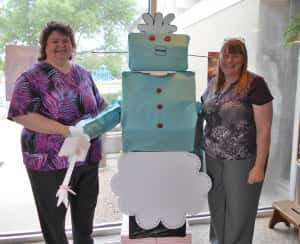 All four year-olds through fifth graders are invited to join the Jefferson Public Library for this year's summer reading program.
Children Librarian Terry Clark says this year's theme is "Fizz, Boom, Reading" which incorporates science.  She states that when the program starts on June 1st, the children's department will be turned into a Story Laboratory where kids can do experiments with rubber eggs, create alka seltzer rockets and get involved with several take-and-go crafts along with movie days relating to the science theme.
Clark talks about the kids summer reading program being flexible enough so that the children can get involved in other activities throughout the summer season.
"By having a program that they can take with them, a travel program per say, they can go ahead and do the other activities and still participate in the library program too.  And so we think it's a win-win situation, all the way around."
She adds that every participant who completes the program will receive a book bag with bookmarks, certificates for pizza and ice cream, Des Moines Blank Park Zoo passes, t-shirts and paperbooks.
There will also be special guest presenters from the Des Moines Science Center in June and Mr. Magic, Jonathan May will be in Jefferson in July.
Last year's program doubled the amount of books that were read by the participants with 6,658 up from a year ago of 2,500.
Call the children's department at 386-4415 to register for this year's summer reading program that runs until the end of July.