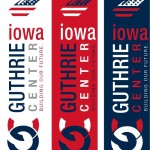 A Main Street Iowa official will be back in the area next week to meet with members of Main Street Guthrie Center.
Design Committee Chair Becky Carico tells Raccoon Valley Radio that Tim Reinders of Main Street Iowa will visit town next Tuesday, June 2nd, to meet with many city officials and community members.
Reinders will begin his day by meeting with Main Street Guthrie Center staff at 9am to take a tour of the town's historic downtown district.  Then at 11am, he will meet with City Hall officials, Guthrie Center Revitalization, and other local commissions to discuss design related issues.
At 2:30 in the afternoon, Carico says Reinders hopes to meet with several business owners individually to address any design concerns they might have.
Finally, at 6pm in the Guthrie Center Activity Center, Reinders and the rest of his Design Tech team will give the public a presentation about Main Street Iowa design in general.  Carico says she encourages community members to show up at the evening session but they're also welcome sit in on any of the other meetings throughout the day.
If any Guthrie Center residents have questions about the impending visit from Main Street Iowa officials, Carico can be reached at 641-757-9969.