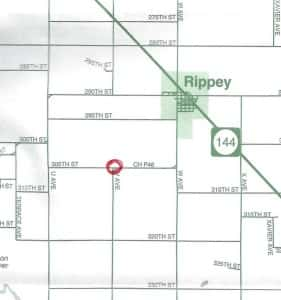 A Perry man was transferred to a metro hospital following injuries sustained from a motorcycle accident in Greene County.
Sheriff Steve Haupert says at 8:50pm Tuesday night, 53 year-old Daniel Eugene Hull of Perry was traveling on 305th Street near V Avenue, south of Rippey when he failed to maintain his 2008 Yamaha V-Rod motorcycle and slid into the grassy triangle.
Hull is currently at Mercy Medical Center in Des Moines with his current condition unavailable at this time.
Haupert explains that the 53 year-old victim was lucky to have landed in a grassy ditch rather than on the road.
"He put his bike down, on its side and sliding on the grass kind of helped cushioned and probably saved his life."
He adds that Hull was cited for Failure to Maintain Control and he urges everyone to drive a controllable speed especially if you're in an unfamiliar area.
"I would urge everyone, riding motorcycles or in any vehicle, if you're not familiar with the roadways and where you are in the county, be cautious and drive the speed limit."
Hull's motorcycle reportedly sustained heavy damage in the accident.
Raccoon Valley Radio will bring you more information as it becomes official.
 Information on condition updated from original story posted at 11:56am.