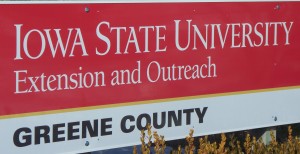 A program that started earlier this week in Jefferson is geared towards helping older people find fun ways to incorporate exercise into their daily lives.
Greene County ISU Extension Coordinator Michael Cooley says the "Living 'Well-Through' Intergenerational Fitness and Exercise" is a program designed to allow people over the age of 60 to incorporate exercise with video games.
He states that they are working with the Greene County Community Center and staff to host the 16-week program that started this past Tuesday.  The instructors are Libbie Towers and Simone Lang and they will help interested individuals play interactive video games that gets them to do some exercise in a fun atmosphere.
He explains some additional benefits that this program can give to participants.
"Research has shown that extra-gaming like this is a more fun and just as effective way to improving overall wellness for older adults also reducing depression that we start to see in older adults as well.  So a lot of fun interaction among your peers too."
Cooley adds that there will be free snacks and additional health information provided during the activities.  The programs will be on Tuesdays and Thursdays and for the first couple of weeks, they will be from 9:30-10:30am and then the last few will only be 30-minutes long.
The program is free and available for anyone over the age of 60.  Call the rec center in Jefferson at 386-3412 for more information about the free fitness program.