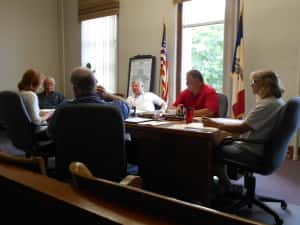 The Greene County Board of Supervisors met yesterday in regular session.
The Board approved hiring Garrett Riedesel as a part-time animal control officer for the county.  Sheriff Steve Haupert said that Riedesel was selected as a summer intern through the County ISU Extension office to work as a part-time animal control officer with the sheriff's office for 20 hours per week at $8 per hour through the Extension office.  Haupert pointed out that Riedesel is already working as a part-time jailer and this would be an additional to his current position and only from June 2nd through July 25th.
In other business, the Board approved to abate $3,433.64 for six properties in the county, the Economic Development Set-Aside grant contract with the Iowa Economic Development Authority for Scranton Manufacturing, set the drainage district waiver rate at six percent, approved with Carroll County's Supervisors for $3,800 in assessments for drainage districts 150 and 86 and the sheriff's quarterly report of fees of $48,913.47.  The Supervisors also set June 26th at 9am for public hearings on drainage district's 33 and 190.
The Board also approved an amendment for an additional $24,000 to be added to the county's revenues and additional $17,000 in expenses for a fund balance change of $7,000 to the fiscal year 2014 budget.
Chris Durlam of Durlan Electric told the Board that he would donate three 150-watt LED light-bulbs and fixtures to the Mahanay Bell Tower.  He said currently there is only one light that's operational which is suppose to illuminate the bells and they are the original 1965 mercury light-bulbs.
John Torbert with Iowa Drainage Districts Association gave an annual report to the Board.  He said that there would be an increase in dues for each county that would go up from $.2 to $.2.25 per acre.
County Engineer Wade Weiss told the Board that he ordered 23 Home Base Iowa signs to be placed at each of the paved county entrances and along the major state highways at a cost of $1,094.