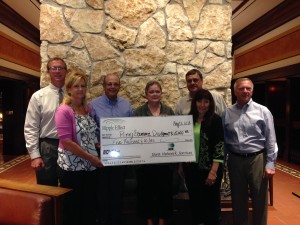 Perry Economic Development recently received a grant to help assist with efforts to get a site certification from the Iowa Economic Development Authority.
A total of $5,000 was awarded to the group, split evenly between Iowa Network Services (INS) and Minburn Telephone Company.
Sue Cosner with INS says they like to help with projects that shareholders are backing.
"We're interested in the growth and development of all of the communities that Minburn (Communications) and INS serve, and this is an important community for Minburn and so for that reason we reviewed the application and decided we could match what Minburn was going to put toward the project."
Debra Lucht with Minburn Telephone Company says their hope is that once the site is certified and a developer moves in they will have to expand their services into the industrial park area even more.
"Bringing the fiber optics into the Perry area, we did extend into the industrial park and so there's opportunity for continued growth.  As the development of the industrial park grows, then we're able to add more fiber and provide state of the art telecommunication services for those businesses that are coming in so it's a win-win for both the City of Perry and for Minburn Communications" says Lucht.
Perry Economic Development Vice President Bill Clark says they're thrilled that these two entities have joined in as financial partners and the grant will help pay for approximately one-quarter of the initial analysis.
Linda Wunsch with the Greater Dallas County Development Alliance says the fact that Iowa Workforce Development has already awarded certifications in the County is definitely beneficial.
"It actually puts Dallas County on the map.  We right now are two of four (certified site locations) in the state and having Perry in there, that will make us three.  So it makes Dallas County a real leader in the process, so it's very much important to us."
The Perry site is currently on the third step in the certification process.  They hope to have it all completed before the end of the year.