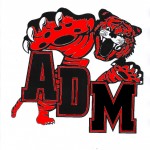 The ADM softball team bounced back from its season opening loss to Carlisle with a nice 4-1 win on the road over Carroll last night. It marked the first win of his ADM coaching career for head coach Rick Dillinger.
ADM split with Carroll in the teams' two games last season.
Next up for the Tigers is a matchup with Des Moines North in their home opener tonight.  First pitch is scheduled for 7:30 right next door to where the ADM baseball team will be playing in Adel.
Coach Dillinger's squad also has a busy weekend in store–they'll play in the Winterset Invitation on Friday and Saturday and are guaranteed at least three games over those two days.
The Tigers' Friday game is scheduled for 4 o'clock in the afternoon.
Box Score:
ADM (4) AT CARROLL (1)

ADM                  AB  R  H BI  CARROLL              AB  R  H BI
Molly Jacobsen        3  1  0  1  Sarah Klocke          3  0  0  0  
Jessica Wyant         2  0  1  0  Emma Borchers         3  0  0  0  
Caitlyn Gruening      3  0  0  0  Lauren Janning        3  0  0  0  
Kenzi Sutton          3  1  1  0  Jessie Grote          3  0  0  0  
Hannah Tiffany        3  0  0  0  Haley Hoffman         3  1  2  0  
Amanda Seiler         3  0  0  0  Karlee Jones          3  0  0  0  
Montanna Popp         2  1  0  0  Kennady Miller        2  0  1  1  
Taylor Boorn          3  0  1  1  Rylie Riesberg        2  0  0  0  
Gabbie Glenn          1  1  1  0  Maddie Bock           2  0  0  0  
 Shannan Jones        1  0  0  0                                    
TOTALS               24  4  4  2  TOTALS               24  1  3  1

ADM                           001 110 1 -- 4  
CARROLL                       010 000 0 -- 1  

LOB--ADM 4, CARROLL 2. ERR--Maddie Bock, Haley Hoffman,
Jessie Grote. 2B--Kenzi Sutton, Taylor Boorn, Kennady
Miller. SB--Gabbie Glenn, Jessica Wyant, Molly Jacobsen,
Kenzi Sutton.

 ADM                             IP    H    R   ER   BB   SO   HR
Molly Jacobsen (W)             7.00    3    1    1    0   14    0
 CARROLL                    
Lauren Janning (L)             7.00    4    4    1    4    4    0