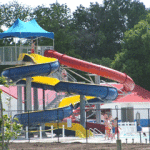 The Guthrie Center Swim Team is hosting its annual breakfast this Sunday, June 1st, and event coordinator Amy Rutledge invites all area residents to attend.
The breakfast will be held from 7:30am to 1pm at the new Guthrie Center Fire Hall.  French toast, eggs, sausage and coffee are on the free will offering menu.
Rutledge says last year's event raised about $1,000 for the swim team. Funds collected are used to help buy new lane ropes for the pool, minimize travel expenses and also buy swim meet ribbons for competing kids.
Rutledge says the swim team is also trying to save money to purchase a new PA and speaker system for the Guthrie Center pool.
If anyone has questions about Sunday's breakfast fundraiser, call Rutledge at 641-747-2291.