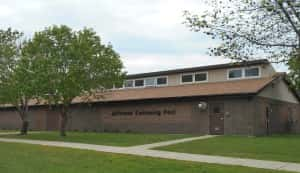 Starting today, the Jefferson Municipal Pool will be open for its regular summer hours.
Pool hours are 11:30am-1pm for adult lap swim, then its open swim from 1-8pm Monday through Sunday.  From 5:30-6:30pm is family hour which Parks and Recreation Director Vicky Lautner explains is when any child must be accompanied by an adult during that time.  Then from 6:30-8pm is general admission.
Some reminders that the pool only opens when it's 65-degrees and above and sunny or 68-degrees and above when its cloudy.  If morning swim lessons are cancelled due to weather, the pool will not reopen until 1pm, weather permitting.  If lightning is spotted in the area, the pool will close for 20-minutes after each strike for safety reasons.  And if the pool closes due to bad weather after 5:30pm, it will remain closed for the rest of the day.
Daily admission rates are $4 for children ages 3-17 years-old and any child under the age of two are admitted free with a paid adult.  Adults are $5 per day and the adult lap swim is $4.  There are also season passes available.
Call 386-3412 for more information.