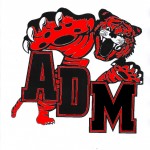 The ADM softball team has now won three games in a row after the Tigers routed Nodaway Valley 10-0 yesterday in their first game of the Winterset Invitational.
Molly Jacobsen threw her second consecutive no-hitter to pick up the win for ADM.  Jacobsen went six innings and struck out 13 hitters in last night's outing.
It was Caitlyn Gruening who provided the punch at the plate for the Tigers, as she drove in three runs, all of which came on a three-run homer in the bottom of the sixth inning to seal the ADM win.
Jessica Wyant also had a double-hit game last night for Coach Rick Dillinger's club.
The Tigers will play in two more games as part of the Winterset Invitational this afternoon.  If they win one of those ballgames, ADM will have matched its win total from all of last season in just its fifth or sixth game of 2014.
The ADM baseball team was also in action last night, but unfortunately their game didn't end in a fourth straight win to begin the season.  The Tigers fell to Class 4A Indianola 2-1 in what head coach Jason Book termed simply: "a great game."
His boys are right back at today as well… ADM will take on both Ankeny High and Ankeny Centennial this afternoon.