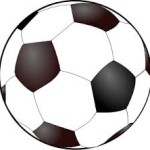 The ADM boys soccer team fell a game shy of qualifying for the state tournament yesterday, as the Tigers lost 5-0 to top-ranked Norwalk.
ADM had been on an eight game winning streak entering yesterday's game against the Warriors, but Norwalk proved simply too much to handle.  The Tigers were trying to grab a state tournament berth for the fifth time in the past six seasons.
ADM ended its 2014 campaign with a 13-6-1 record and a Raccoon River Conference championship.
Senior star Jacob Hutzell finished the season with 17 goals, ranking him tied for 12th in Class 2A.