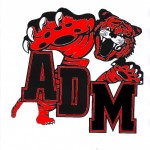 The ADM softball team went 2-1 over the weekend in the Winterset Invitational.
After routing Nodaway Valley on Friday night, the Tigers went 1-1 Saturday afternoon, beating Harlan 10-3 before losing 8-5 to host Winterset.  Coach Rick Dillinger's club is now 4-2 on the season and ADM has already matched its win total from a year ago.
The Tigers collected eight hits and took advantage of two critical errors to score their 10 runs against Harlan.  Molly Jacobsen picked up another win the pitcher's circle against the Cyclones, striking out nine.
In game two Saturday, ADM found themselves in a four-run hole after the first inning against Winterset and could never quite recover.  The Tigers were able to come up with 10 hits in the ballgame but that wasn't enough to overcome the impressive hitting output from the Huskies.  Winterset had 12 hits and two home runs off ADM ace Molly Jacobsen in the win.
The Tigers' busy start to the season will continue in this week ahead.  ADM has tonight off but will play at Earlham tomorrow, at Boone Wednesday, and at Bondurant-Farrar Thursday before hosting Perry on Friday evening.