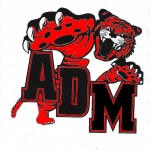 The ADM baseball team won its first Raccoon River Conference game of the season last night–the Tigers went on the road to beat Carroll 8-5.
Logan Essy picked up his second win of 2014 on the pitcher's mound for Coach Jason Book's club, as he threw 6 ⅓ solid innings, allowing just three hits and four runs, three of which were earned.
After two starts on the season, Essy has thrown 11 ⅓ innings and now sports a 3.70 ERA.
The Tigers busy slate continues in the days ahead as they have three more conference games this week.  They travel to Boone tomorrow and to Bondurant-Farrar on Thursday before returning home to take on rival Perry on Friday night.