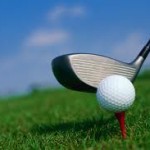 The ADM girls golf team is in fourth place in Class 4A after the first day of the state golf tournament at Ames Golf & Country Club.
Coach Cris Goodale's squad shot a combined score of 378 yesterday, and the Tigers only trail second place Mount Pleasant by four shots entering today's second and final round. Charles City is in third place after one round having shot 376.
Cedar Rapids Xavier is way out in first as a team, as their top four players combined to shoot 352.
Individually, the Tigers have three girls currently in the top 13 after day one.  Hayley Willems is alone in seventh after shooting an 89.  Lexi Owen carded a 90 in the first round and is tied for eighth.  And finally, Taylor Boorn is tied for 13th–she shot 92 yesterday.
Tune-in to tomorrow's sports to hear how the ADM girls fare during today's final round of the state golf tournament in Ames.