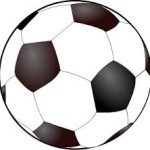 Rain, thunder, lightning and threatening skies… all of those conditions forced the suspension of the ADM/Van Meter girls soccer team's Class 2A Region 3 semifinal against Des Moines Hoover last night.
Coach Kelsey Dolder says only nine minutes were played in the match, though the Tigers will have a 1-0 lead when play resumes this evening.  There are still 31 minutes remaining in the first half.
The Tigers' goal came just a couple of minutes into the contest when Emily Hofmann sent in a corner kick to Sydney Bertman who then found the back of the net.
If ADM can hold onto its lead tonight, the Tigers will get the winner of Perry and Dallas Center-Grimes in the Region 3 final next Monday.