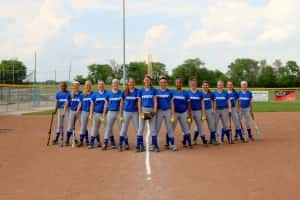 Boone rallied from an early three run deficit to defeat Perry 12-9 in nine innings Thursday night in Raccoon River Conference softball.  The Torreadors scored five times in the ninth inning to build a 12-7 lead while Perry managed to push across a pair of run in their half of the ninth but came up short when Lindsey Kunch grounded out with two runners on to end the wild game.   Perry took the lead in the second inning when sophomore Victoria Hegstrom launched a three run home run to give the Jayettes a 3-0 lead.  Boone came back with 6 unanswered runs..all unearned scoring three times in the third and three more in the fifth.  Carrie Overland, Breanna Hunter, Kennedy Vinchattle and Laura Anderson all delivered two strike, two out hits in the third following a Jayette error that would have ended the inning.  Perry's Emma Olenjzack drove in the first of her four runs when she delivered a two run double in the bottom of the 5th to tie the game at 6 apiece.  Both teams scored a run in the seventh before Boone pulled away in the 9th.
Olenjzack finished 3-4 with a career high 4 RBI's while Julie Diw extended her hit streak to five games.  Senior Kylie Brandt reached safely all five times finishing 2-2 with 2 walks and a hit by pitch.  Olenjzack went 8 innings allowing 11 runs, 3 earned off 10 hits and 7 walks while striking out six.
Perry falls to 2-3 and 1-2 in the conference while Boone jumps to 8-2 and 2-1 in RRC play.