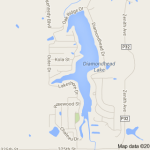 An Urbandale woman had to be transported to Mercy West Hospital last Friday night after crashing a golf cart into a propane tank.
According to the Guthrie County Sheriff's Office, 53 year-old Mary Wright of Urbandale, was driving a golf cart owned by Ricky Soroka of Dexter along Diamondhead Drive on Diamondhead Lake at about 8:30 Friday night, when she entered another homeowner's property and crashed into a propane tank.
As a result of the collision, the tank rolled down the hill of the home at 9185 Diamondhead Drive and was leaking propane.  The Pelgas propane tank was being rented by property owner Rubin Scott of Dexter.
Wright was transported to Mercy West via Stuart Rescue to be treated for possible injuries sustained in the collision.
The Guthrie County Sheriff's Office estimates the damage to the golf cart to be just $20, but the damage to the propane tank and its lines is estimated at $1,000.
No citations or charges were filed against Wright after investigation.