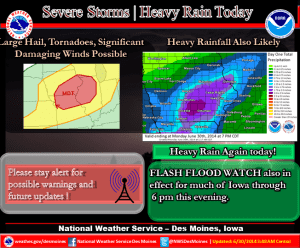 After three severe thunderstorm warnings in Greene County prompted the Raccoon Valley Radio Severe Weather Action Team to interrupt regular scheduled programing for wall-to-wall coverage Sunday evening, another severe storm called the team back in early Monday.
A severe thunderstorm warning was issued for central Webster, northeastern Carroll, Calhoun and Greene Counties shortly after 3:30am Monday.  Greene County remained under a severe warning until 5:09am.  The Severe Weather Action Team was called into report up to the minute updates while the storm impacted our primary coverage area.
A severe thunderstorm watch remains in effect until noon Monday for Dallas, Greene and Guthrie Counties, along with much of Iowa to the southwest.  There is the potential for large hail, tornadoes and significant damaging winds.
Raccoon Valley Radio will continue to provide you weather updates throughout the day.