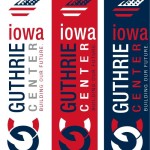 Officials from Main Street Iowa will be back in Guthrie Center Tuesday evening for their third visit in the last month's time.
After Main Street Guthrie Center's design and organization committees met with officials in June, the Promotion Committee will now have the opportunity to benefit from the guidance of a state specialist.
Main Street Iowa's Terry Buschkamp will discuss Promotion Committee responsibilities and roles, and work on setting some goals through action planning.  The first session will begin at 5:30pm and it is for Promotion Committee members and prospective members.
Then at 7pm Tuesday, Buschkamp will give downtown businesses information that will help them learn strategies on how they can benefit from Main Street promotion.
Main Street Guthrie Center Director Julie Bailey says both sessions will be held at the Mary Barnett Library and the public is invited to attend.