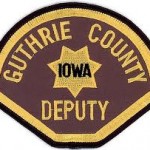 A Panora man was arrested on three separate drug charges this past weekend after his car was searched during a traffic stop.
According to the Guthrie County Sheriff's Office, Deputy Kent Gries was conducting a traffic stop on a Chevy Trailblazer at the intersection of Highway 4 and 190th Street in Guthrie County at about 6:30pm on Sunday, July 6th, when he deployed his K9, Rage.
The K9 then hit on the passenger side of the vehicle and following a search, 39 year-old Russell Gardner of Panora, was arrested for Possession of Methamphetamine, Possession of Hydrocodone and Possession of Drug Paraphernalia.
Gardner was booked in the Guthrie County Jail and later released after posting bond.
Raccoon Valley Radio will bring you more information as it becomes official.