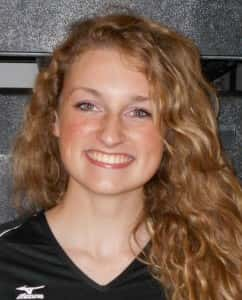 Having a target on your back isn't something that the 2014 Adel-DeSoto-Minburn volleyball is taking lightly.
In fact, losing their final match of the 2013 season in the regional finals to than fourth-ranked in Class 4-A Waverly-Shell Rock makes this year's Tigers even hungrier to perform even better says returning senior Karina Dufoe.
"Whenever you lose a game, you just have motivation to come back the next time and play better and you have that almost like underdog feeling inside of you that wants to come out and just really succeed in your next season.  So that's what we're coming into this season as really wanting to succeed."
There will be a few changes to positions for some of the returners from a 25-13 squad last year to try and help the team succeed.  Senior Maddie Mikkelsen says she'll be transitioning from being just an outside hitter to playing all the way around.  She tells Raccoon Valley Radio why she's excited for that opportunity.
"It's just fun to be able to be in the game the entire time, you get like that intensity and it's just a lot of fun to be able to do all the aspects of the game (like) passing and hitting and everything."
ADM returns five seniors and one junior starter.
They're first match is on Tuesday, August 26th at a six-team Newton tournament.