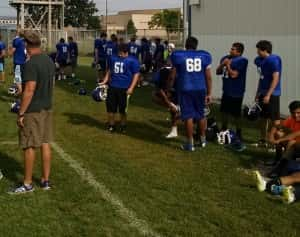 The Perry football team will hold their first true audition tonight in front of a Dewey Field crowd as the Bluejays host the annual sports drink scrimmage.  Kickoff will be at 6:00 with admission simply a sports drink.  The state is offering high schools the opportunity to scrimmage other schools tonight in preparation for next weekend's official opener.  Perry elected not to scrimmage another team and keep the traditional in house scrimmage in tact.
"I think you can look at it a lot of different ways.  The teams that do it, that's their own business.  I imagine you can make an argument on why it is a good thing with the ability to get the rust off.  We came out last year and played exceptionally well in week 1 and so we felt we made the right decision a year ago," stated Perry Head Coach Jason Olejniczak.
Olejniczak, a former safety at the University of Iowa, feels the risks associated with playing another school outweigh the benefits.
"The bottom line is injuries for me.  You get a kid injured and in our situation he misses 3 to 4 weeks, that really puts you behind the eight ball and sets you back.  The second aspect is that it could hurt your confidence.  If you come out and don't play well, you might spend all week trying to get the kids back on track with confidence.  You would have to be careful on who you select to play.  We're confident in the current situation in which we control what we do and manage the game."
A couple of key areas for fans to watch tonight will be the development of Will Whiton at quarterback.  Whiton dazzled the crowd last year with a number of throws and highlight runs and scrambles.  The offensive line appears to be a strength and the Perry coaches are anxious to see who steps up at the skill positions, in particular running back and wide receiver.
Perry will play ADM next Friday night in a week one matchup.