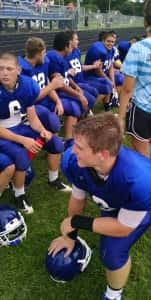 The Perry football team held a successful controlled scrimmage Friday night at Dewey Field before lightning cut the festivities a little short.  Perry ran the first team offense for three different sets while mixing in the freshman and Junior Varsity squads as well.
"It's tough to say until we watch the video tape but we saw a lot of good things.  We were subbing a lot of bodies because we have a lot of bodies which is always fun.  We were able to get our first team out there for a handful number of reps and I saw a number of athletes step up who haven't been in practices so we are left with some tough decisions to make."
The Perry offense moved the football effectively mixing in a nice blend of the run with the pass.  Will Whiton orchestrated the offense while Eli Saemish, Blake Jans and Nic Wilhelmi were the main ball carriers.
"I think obviously we have a good nucleus to build around with Whiton and Wilhelmi.   We are certainly expecting big things out of Nic and he has shown a lot of that this summer.  He's expecting to have a great year and we expect that.   Outside of that we are replacing Seth Stetzel and  Ben Daniels and so it will be by committee.  Blake, Eli, and Adon Medina are all capable running backs and will get reps there.   Keegan Wolf looks like a senior out there with his maturity and is doing a great job."
The tight end battle is still ongoing with Solomon Pierce and Marcus Meri looking to solidify the spot but don't be surprised to see both in there Friday night.  Olejniczak also mentioned Tavier Lucas and Jacob Thompson as players to keep an eye on.
Perry will travel to ADM Friday night for the season opener.