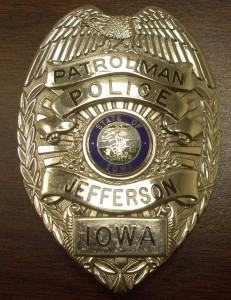 After a nearly one month investigation, the Jefferson Police Department has recovered items that were reportedly stolen from several victims and identified two suspects believed to be to blame.
Police Chief Dave Morlan tells Raccoon Valley Radio two search warrants were executed at 500 East Clark Street Friday.  While searching, officers were able to locate items that match the description of stolen property reported as far back as September 1st.
Earlier that day, Morlan says officers were also called to 701 North Cedar Street where a resident reported that several tires and rims, worth a total of $2,340, were stolen from his property.  Officers noticed fresh tire tracks in the grass by the resident's home, which led them to the house in question and gave the department probable cause to issue a search warrant.
In addition to the tires and rims in question, officers also located other stolen items such as a vehicle, parts and tools.  During a second search of the property at 500 East Clark Street, officers also located additional items matching the description of property stolen from a construction company in Story County, along with controlled substances and drug paraphernalia.
So far, police have identified eight burglary victims.
Chief Morlan says law enforcement in Boone and Marshall County are also expected to issue warrants in connection with these crimes.  He commends his officers for the work done in getting a search warrant and helping to stop the town's recent burglaries.
Charges are pending against 20 year-old male and 34 year-old female suspects.
The case remains under investigation.  Raccoon Valley Radio will bring you more information as it becomes official.