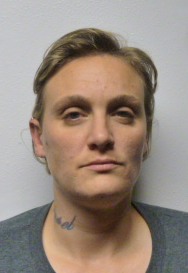 The Grand Junction mother who first reported an attempted abduction of her three year-old child last week has been charged with false reporting.
Sheriff Steve Haupert says 36 year-old Tauwana Rae Laue agreed to take a polygraph test that was scheduled for Monday at 10am in Des Moines with the Department of Criminal Investigation and she was a "no show".
Haupert states that they issued an arrest warrant on Laue and she turned herself into the Law Enforcement Center at 6:10pm last night.  She has been charged with a serious misdemeanor for false reporting with a public safety entity.
Laue claimed the alleged incident happened on Monday, September 29th when a white van approached her three year-old daughter who was on a bicycle about half a block away at 12th Street South and Hager Street from her when a white male wearing a ski mask got out and tried to grab her daughter.  That's when she told authorities her pit bull that she was walking broke free from its leash and bit the abductor and the man dropped her daughter and the white van left the scene.
Haupert notes that they obtained footage from video surveillance outside of the Greene County Intermediate School where it had recorded the exact intersection that Laue claimed where the incident took place.  He adds that they found no evidence of the attempted abduction.
Haupert comments that several state agencies including State Patrol aircraft were used in searching for the alleged white van and lots of money was spent using those resources for a fabricated report.  Because a charge has been filed against Laue, the Sheriff's office will not send in blood samples that they obtained from the pit bull that Laue claimed was blood from the white male after the canine bit him.
Haupert appreciates the school building's video surveillance and adds that it was of great help in their investigation and wants to thank all agencies who were involved in helping with the alleged incident last week.