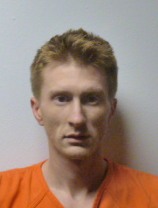 A Carroll man faces felony drug and gun charges after an incident in Greene County.
Chief Deputy Sheriff Jack Williams tells Raccoon Valley Radio that 25 year-old Cody Lee Sellman of Carroll was arrested early this morning and charged with Class D Felonies for manufacturing marijuana and a felon in possession of a firearm, along with an aggravated misdemeanor for assault.
Williams states that the charges stem from an incident that occurred around 11:15pm Monday in the 1600 block of Scranton when Sellman was reportedly waving a sawed-off shotgun in the air during an argument.
Around 1:40am the Deputy obtained a search warrant for the residence they were called to earlier.  It was determined that Sellman lives at the home and officers found the firearm in question, along with 15 individual marijuana plants.  Williams points out that more charges are pending completion of the investigation.
Sellman was taken into custody and remains in the Greene County Jail under a $5,000 cash only bond.