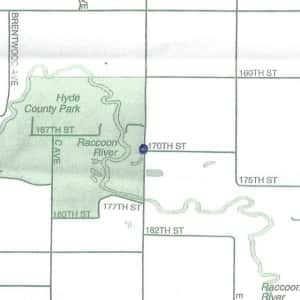 A weekend fire destroys a semi-tractor in Greene County.
Sheriff Steve Haupert says at 9:19pm on Saturday, a deputy and the Scranton, Churdan and Ralston fire departments responded to the incident at D Avenue and 170th Street.
Haupert states that 36 year-old Keith Lyle Partlow of Menlo was traveling southbound on D Avenue when he reported smoke coming from the cab of the semi-tractor.
Scranton Fire Chief Doug Duff says when they arrived on scene, the semi-tractor was fully engulfed in flames.  Crews blocked off the area while the fire was put out and the 2007 Peterbilt semi-tractor that was owned by KC Logistics, LLC from Menlo was a total loss.  Duff notes that the fire was contained to the semi-tractor and the flatbed trailer was empty and didn't sustain any damage.
Duff adds that they believe the cause to be electrical in the accidental fire and no one was hurt in the incident.