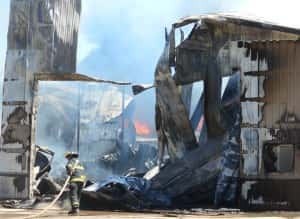 Several fire departments responded to a storage structure fire in Boone County Thursday.
According to Greene County Dispatch, the call came in just before noon at 1846 B Avenue in Boone County.  Grand Junction, Rippey, Jefferson and Perry fire departments, Grand Junction Rescue Unit and the Greene County Sheriff's office responded to the scene.
Grand Junction Fire Chief Tim Fester tells Raccoon Valley Radio when they arrived on scene, the large storage building was fully engulfed in flames.  Fester says an individual living there  was sharpening mower blades when he stopped to help bring in groceries and then came back out and saw a fire had started inside the unit.
He adds that he was mowing when he received the fire notification on his phone from the Law Enforcement Center.
"It's a thing that goes out that the LEC (Law Enforcement Center) does that if you don't hear your pager, it comes over our cellphones and it comes across as a text message.  You just hit 'I'm responding' and then the dispatchers know who's responding and how many people.  I'll tell you what, it's a good thing, I really like it."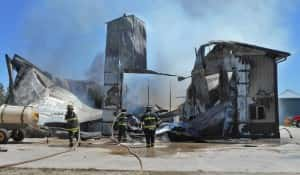 He points out that with the warmer temperatures, firefighters are taking precautions to keep themselves safe.
"We have plenty of bottled water on our trucks and we keep hydrated that way.  We have enough guys here that we can switch groups in and out and everybody get a chance to cool down."
  No one was hurt in the incident, but at least a combine, two tractors and a planter were lost in the fire.  The entire structure is a total loss.  Sharon Laub owns the storage building.