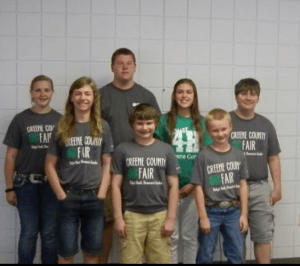 The Greene County Fair may be less than a week away, but some 4-H'ers have already earned their trip to Des Moines for the Iowa State Fair.
Extension 4-H and Youth Coordinator Kayla Hyett says a total of seven exhibits qualified for the State Fair at last week's Communication's Day at the First Presbyterian Church in Jefferson.
Arthur and Avery Bardole, Emily Heupel and Joe Thompson each had their educational presentations qualify, Arthur Bardole also qualified his communication poster on this year's 4-H theme of "Dive to New Depths" and Thompson also had his poster qualify on his topic of "4-H is a Field of Opportunities". Finally, Arthur Bardole will take a third communication exhibit to Des Moines in extemporaneous speaking. Trey Schilling was selected for the Clay County Fair for his educational presentation.
Hyett points out that everyone will get an opportunity to see the exhibits during the Greene County Fair.
"Everybody that participated will bring back their write up and also their ribbons that they received and they will be displayed with their (4-H) club. And out exhibits will be exhibited with other State Fair exhibits for static."
All static exhibits will be on display in Clover Hall during the county fair from Wednesday, July 13th through Sunday, July 17th.
Other competitors:
Jaron Thompson received a red ribbon for his communications poster
Kara Reed received a blue ribbon for her educational presentation