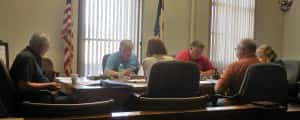 The Greene County Board of Supervisors met Tuesday in regular session.
The Board approved the June 30th cash count as presented, the County Recorder's report of fees for June of $19,291.18 and the County Auditor's passport report of fees for April through June of $1,075.
The Board heard an animal shelter update. Facilitator Don Orris presented to the Board information that he had gathered from other shelters, along with current information on the existing structure. He requested that the County and the City of Jefferson come to an agreement on how they would like to operate and maintain the new facility before a cost estimate could be determine to build it. No formal action was taken by the Board.
Finally, County Engineer Wade Weiss gave an update to the Board. He told the Board that he is working with the Virden Company on a contract to complete the work on the full carillon bell system for the Mahanay Bell Tower. He said the Bell Tower Community Foundation would like to get the modification portion completed late this summer or early fall. The Board took no formal action on the issue.