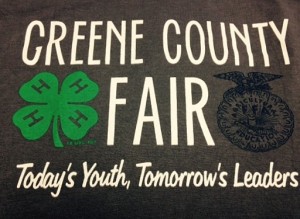 Everything is set up and ready to go for the start of the 2016 Greene County Fair.
The first official day is tomorrow. The static exhibits will be judged in Clover Hall at 8:30am and new this year is the addition of the third grade Clover Kid exhibit entries.
"We also have approximately 15 Clover Kids bringing their exhibits in and we're super excited to have them with us this year. We've got anything from photography, to a livestock poster and some drawings. So we're really hoping for a good turnout."
That's Extension 4-H and Youth Coordinator Kayla Hyett who adds that other activities will be livestock check-ins as well as the dog agility show in the bus barn at 6pm. She talks about what she hopes to get out of her first experience at the Greene County Fair.
"I really hope we go smooth and everything runs like we're hoping it will. I'm really looking forward to all of it. I grew up in livestock, I grew up in showing and so getting back into field of it, I'm just really excited for the whole week."
There's free admission to the fair and our Big Red Radio will be there broadcasting live from Tuesday through Sunday from 10am to 5pm. A full list of activities can be found by clicking the link below. You can also check out our county fair page on our website for results from the fair.